Fished the upper bay with Anglin Andy from 8:30 to about 5:30. Got setup at our first spot and once the current starting slowing down I get a fish on. Weaving in and out of rods was taking drag but wasn't sure if it was going to keep all of sudden he's just off. Then Andy gets one that he has a little fight with and he thinks its small. When we see it I'm like "dude that's a nice fish" and I run for the net. A nice fish 40" didn't weigh it in the 20lb range.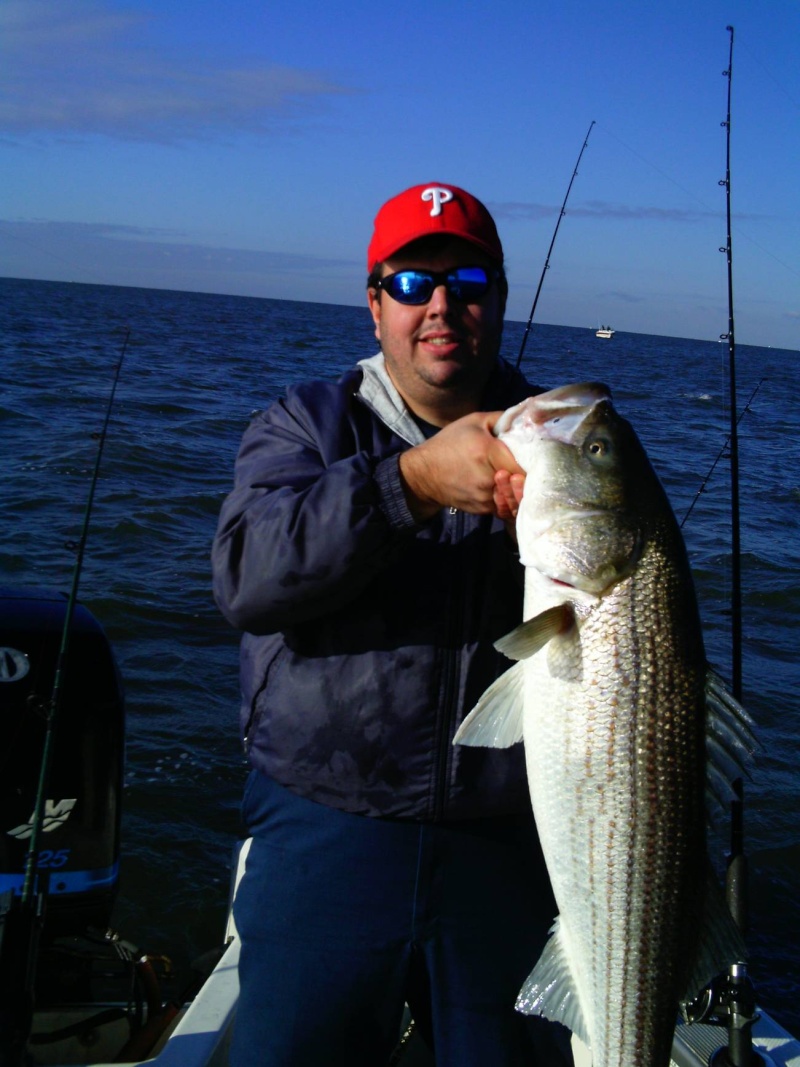 I get one within 15 minutes of his a 34". 2 keepers and we're just getting started this is going to be a good day. One more very short striper till 2:00.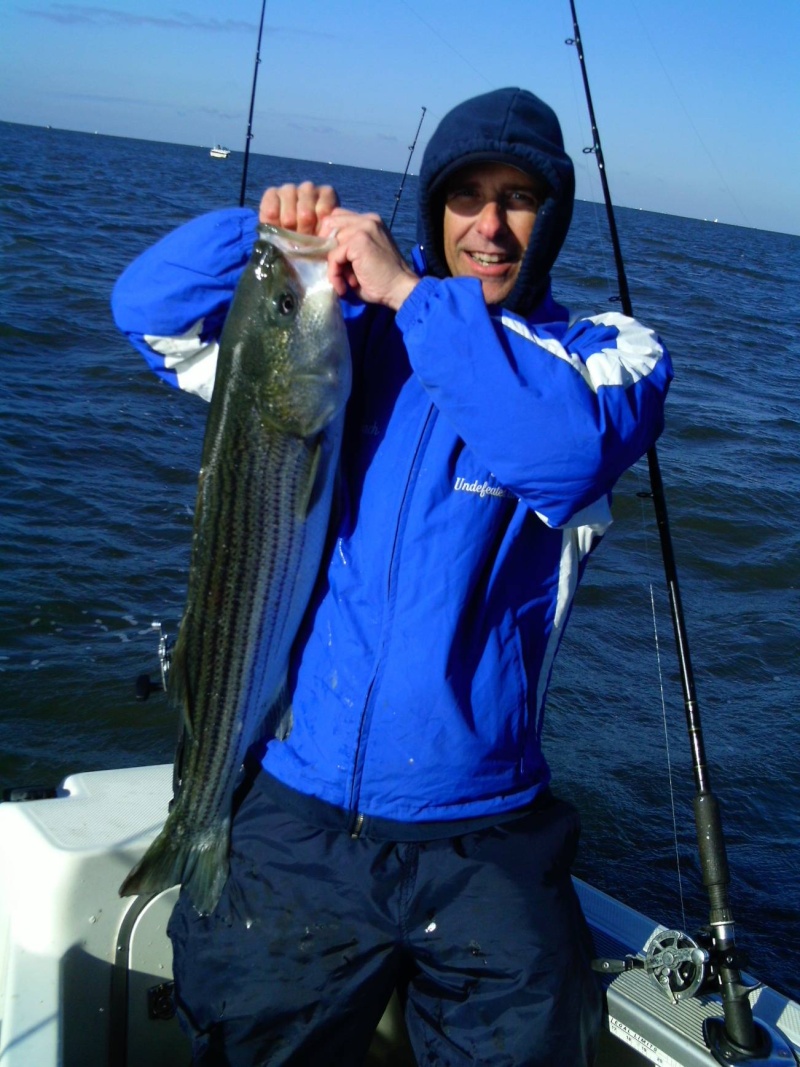 We decide to try a spot he usually fishes. He was out of anchor and we move 6 miles south near EP to where he usually fishes. We have problems finding hole. Don't anchor where we want to be and it's a lot rougher than where we were. Within 20 minutes we were both like lets not waste our time here. One more spot to try on the way back to the barn for some drop and catch striper shorts just for some action. After a 10 knot ass kicking coming back up the bay I try to get anchored in my spot and end up drifting pretty far from where I started. I caught 5 shorts then its fight on. Fish starts peeling off drag and I said this is going to keep. Not much current and when he would stop pulling I could tell there was a lot of weight. I'm fighting it and my reel comes off the rod with the drag still peeling off. Andy gives me a hand we get the reel back on the rod. Then Andy's rod goes off which is in the direction of my fish and he thinks its my fish wrapped in his line. Nope it was a fish and got his noggin. I continue to fight the fish and he keeps trying to keep his bait in the water. The fish changed sides of the boat 3 times. We finally get it close and can't get it in the net. We tire it a little more get it close to the boat and Andy grabs it by the gills and drags it on the boat. Thanks buddy. 47" 32lb. My old record was 43". Great ending to a rather slow day after a good start. Had em on a stringer trying to revive it but it never regained its strength. It was such an awesome fish and fight that I would have liked to release it but it never really recovered.

lagerhelps




Number of posts

: 55



awsome report....great day you boys had...congrats on the big girl.....
she sure was big....and the battle souned intense....CONGRATS....

stevel

S.B.O DONATING MEMBER





Number of posts

: 5197



way to go Tom, great day on the bay!!

MissRiss




Number of posts

: 492



MissRiss wrote:way to go Tom, great day on the bay!!
Thanks, it sure did end great. Had a 6 hour lull in the middle but that's fishing.

lagerhelps




Number of posts

: 55



WTG Tom on your personal best!! that is indeed a nice fish! Patience pays off - i practice and preach the 3 p's.
Patience.
Practice.
Persistance!
I keep saying this and ill say it again, this weekend coming up should be a good one!

Thanks for the report.

Fish Hawk




Number of posts

: 169




---
Permissions in this forum:
You
cannot
reply to topics in this forum